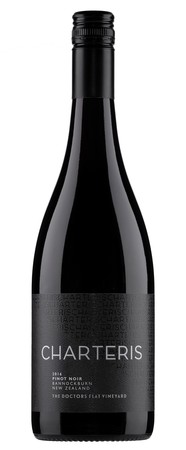 2016 Charteris Doctor's Flat Vineyard Pinot Noir - Museum Release
Handpicked on 4th April 2016
In late 2014 the Winter Vineyard was sold and our access to the grapes went along with the sale. While this was the end of an important chapter in the Charteris wine adventure, as is often the case, another door opens and we get the opportunity to explore new Terrior. The great Central Otago winemaking network which has been so kind to us in the past once again gave us a new patch of dirt and new character to work with in the form of Doctor's Flat and Steve Davies.
I've known Steve for many years, we first met at Saintsbury Winery in the Napa back in 1992 where he was part of the winemaking team. Like so many Kiwi winemakers, Steve had left Aotearoa in search of Winemaking enlightenment and ended up in California. Steve returned to Central Otago to take over the winemaking at Carrick and planted his Doctor's Flat vineyard in the early 2000's.
The vineyard is all of 3 hectares and I have been fortunate enough to have him share some of his precious grapes with me. It's a unique site sitting above the river terraces along Felton and Carnmuir Roads that have become synonymous with Bannockburn. This little piece of geological gold is all the more special for the fact that the Gold miners of the late 1800s left the pristine soils in place for Steve to plant his vines into.
The slightly higher elevation and later harvest dates have given me a finesse and elegance to work with in this wine.
Wine Specs
Bottling Date
29th March 2017
Wine Profile
Tasting Notes
Dark cherry and a layer of brown spice with subtle leafy herbs fill the aroma. This wine has had a little bit longer in the cellar thanks for Covid and the reward is a depth and complexity that can only come with time. The primary fruit lift is only enhanced by the subtle whole bunch spice. There is a youthful vein of acidity which carries the flavour and tannin texture with a lightness giving this wine a delicacy and vitality that belies its age. A core of dark plummy fruit provides length and persistence. The oak is subtext and sits well within in the phenolic framework. 10 years is not out of the question for this wine.
Vineyard Notes
Winter 2015 took a while to arrive but when it did there was plenty of precipitation and white stuff on the ground. At about 9am on the 18th June while blending our 2014 Pinots I found myself reaching for an extra layer of clothing while inside with the fire blazing. On further inspection out the window the 10cm of snow on the ground was perhaps the reason. Good soil moisture and a warm, windy spring made for an early budburst with good growth. Warm days and cool nights from November 15 through to January 16 ensured growth stayed in check with dry weather throughout. February settled in to classic warm and calm conditions setting up day after day of glassy waterskiing conditions on Lake Dunstan. The cold nights returned in March and combined with warm days harvest was earlier that the previous few. There was a brief interlude of stormy weather in March around Queenstown with the arrival of Pete Cullen from the Bonnells Bay Hotel on the NSW Central Coast and some of his golfing friends. Plenty of hot air seemed to create a fair bit of wind resulting in foggy conditions the following morning. Things cleared however with the departure of Qantas flight 122 and conditions returned to normal. Overall a dry and warm season with a significantly warmer than usual February, Growing Degree Days were up 20%. While bunch numbers and berry weights were down, Bunch weights were up due to higher berry numbers than normal. That translates to lots of small berries which is good for flavour.
Winemaker Notes
- 50% 115 and 50% 777 Clones - 40% Whole Bunch inclusion with the balance whole berry - 2 new French barriques out of 6, so about 30% new oak. - Bottled on 29th March, 2017 - 150 dozen produced - 13.5% Alc, 3.54 pH, 5.9 g/L Titratable Acidity